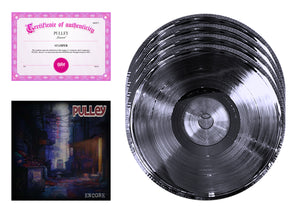 Includes 4 stampers A+B+C+D and certificate. This stamper-set is limited to 1.

The certificate attests the authenticity of this stamper, it's exclusivity and it's uniqueness. PULLEY "Encore" was released/produced by SBÄM Records/Packaged Sounds in 2021.

LP 1
1. The Never Ending
2. Ghost Inside My Skin
3. Mandarin
4. Enemies
5. Rattling Rust
6. No Man's Flute
7. The Long And Short Of It
8. Which Way To Go

LP 2
1. Cashed In
2. Hooray For Me
3. No I In Team
4. Ocean Song
5. One Shot
6. Second Best
7. Working Class Whore

PS: The stamper-set is only a souvenir and does not allow the reproduction of the album!!!