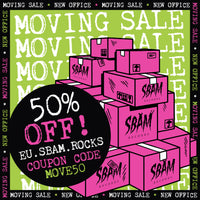 MOVING SALE! 50% OFF!
We're moving into a new office. And to protect our already worn out bodies, we wanna move as less stuff as possible. So here's your chance to grab your perfect birthday, XMAS or whatever present, for very very very very very short money. 50% OFF EVERYTHING (except pre-orders and EU store only). 5, 4, 3, 2, 1 – GO!

Coupon Code: MOVE50
THE VENOMOUS PINKS "Hold On"
Travis Barker "Blink-182"
So great. Perfect in fact. You're the man.

Joey Cape "Lagwagon"
Bro! Your art is amazing!!!!!

Jim Lindberg "Pennywise"