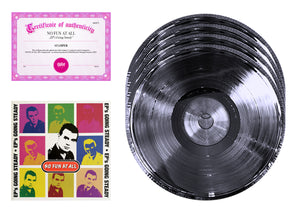 Includes 4 stampers A+B+C+D and certificate. This stamper-set is limited to 1.

The certificate attests the authenticity of this stamper, it's exclusivity and it's uniqueness. NO FUN AT ALL "EP's Going Steady" was released/produced by SBÄM Records/Packaged Sounds in 2021.

LP 1
1. Wheres The Truth?
2. Visions
3. Its All Up To You
4. I Wont Believe In You
5. Funny
6. Suffer Inside
7. Sidewalk
8. I Wont Comeback
9. What You Say
10. Stranded
11. I Don't Know Anything
12. Waster

LP 2
13. Wiser
14. In Sight
15. Welcome To The Working Week
16. Throw It In
17. Shot By Both Sides
18. Where Eagles Dare
19. Don't Be A Pansy
20. Cant Go Far
21. Alcohol
22. Leaving
23. On My way
24. Dying Everyday
25. Walk A Mile For You

PS: The stamper-set is only a souvenir and does not allow the reproduction of the album!!!